A few months ago, I decided to buy a new set of knives.  My entire adult life had consisted of hand-me-down knives from family members and one day I found a set on clearance at the department store.  I happily took them home and showed my husband.  I grabbed a tomato and eagerly started to cut it in half.  To my horror, it didn't slice right through the tomato like I expected.  It "sawed" through exactly like my old ones!
The moral of the story?  You aren't going to find a good knife set on a clearance end cap for twenty bucks.
You also don't have to break the bank to get great quality knives!  Ginsu cutlery has been around for many, many years and there is a reason for that.  Their knives are high quality at a reasonable price.
The Ginsu Sofuto Soft Grip Cutlery set features colored, slip resistant handles and blades made from Japanese 420J2 stainless steel, a material well known for stain and rust resistant.  When not in use, the Sofuto knives are safely stored in a hardwood storage block crafted from richly grained hardwood and designed to protect your fine cutlery.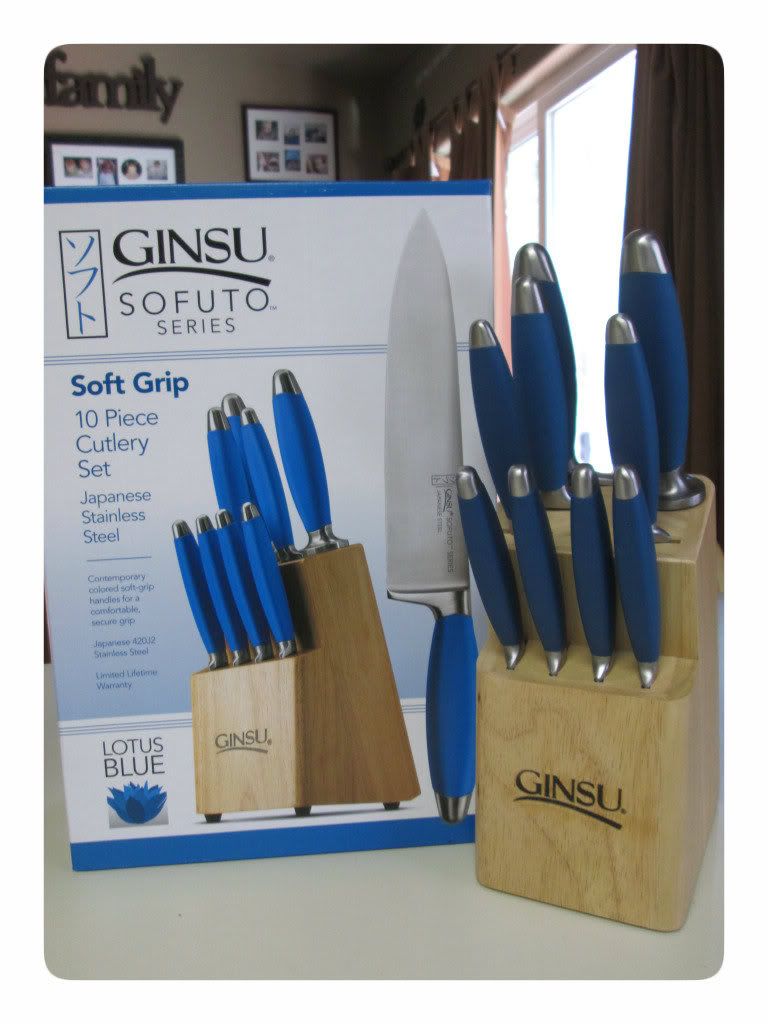 I recently had the opportunity to try Ginsu's Sofuto series knives and am beyond happy we did!  The Ginsu Sofuto knife set includes an 8″ Chef Knife, 5″ Santoku, 5″ Utility Knife, four 5″ Steak Knives, 3.5″ Paring Knife and a Honing Rod that the kids affectionately refer to as the sword.
When I first opened the knives, I could immediately see the difference in quality between them and my clearance set.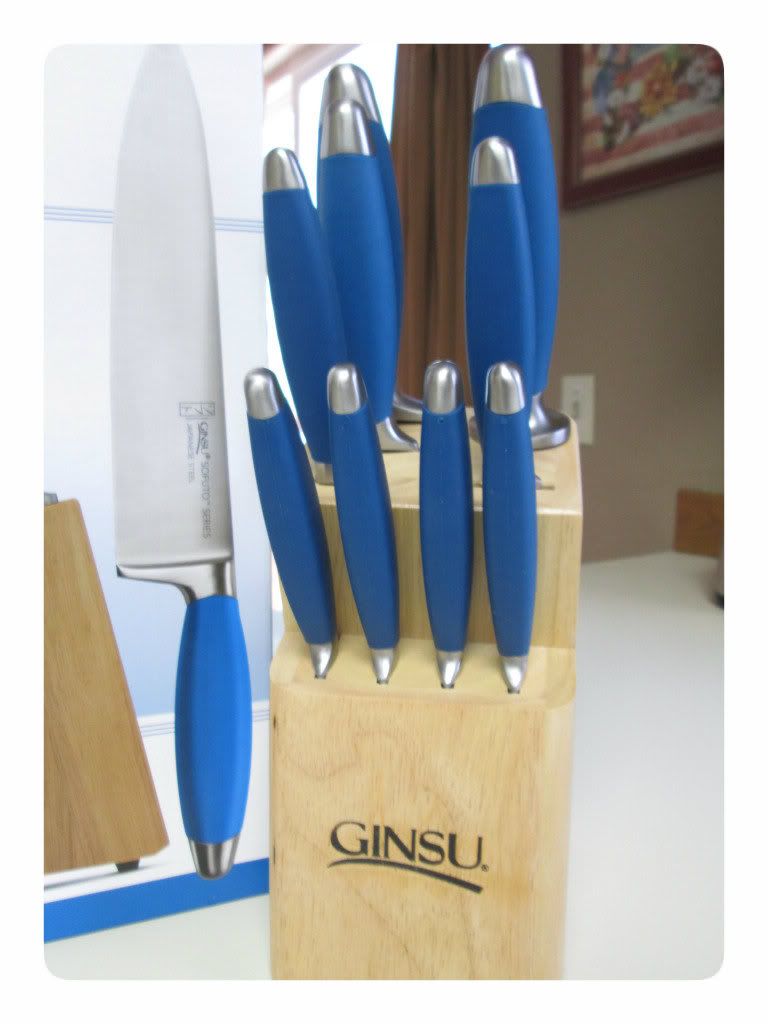 I laid out the knives and inspected each one, like a giddy kid at Christmas!  The first thing I noticed is the soft grip handles.  The handles are shaped and ergonomically designed to fit your hand and keep the knife from slipping while you are cutting.  The Lotus Blue color was adorable, too.  The Japanese 420J2 stainless steel looked durable and I was excited to test them out!
I went to the fridge and took out the two things I hate cutting most, tomatoes and cheese.  Much to my delight, the Sofuto knives tackled both like a dream.  FINALLY!  A knife that works!  They sliced right through the tomato like is was nothing!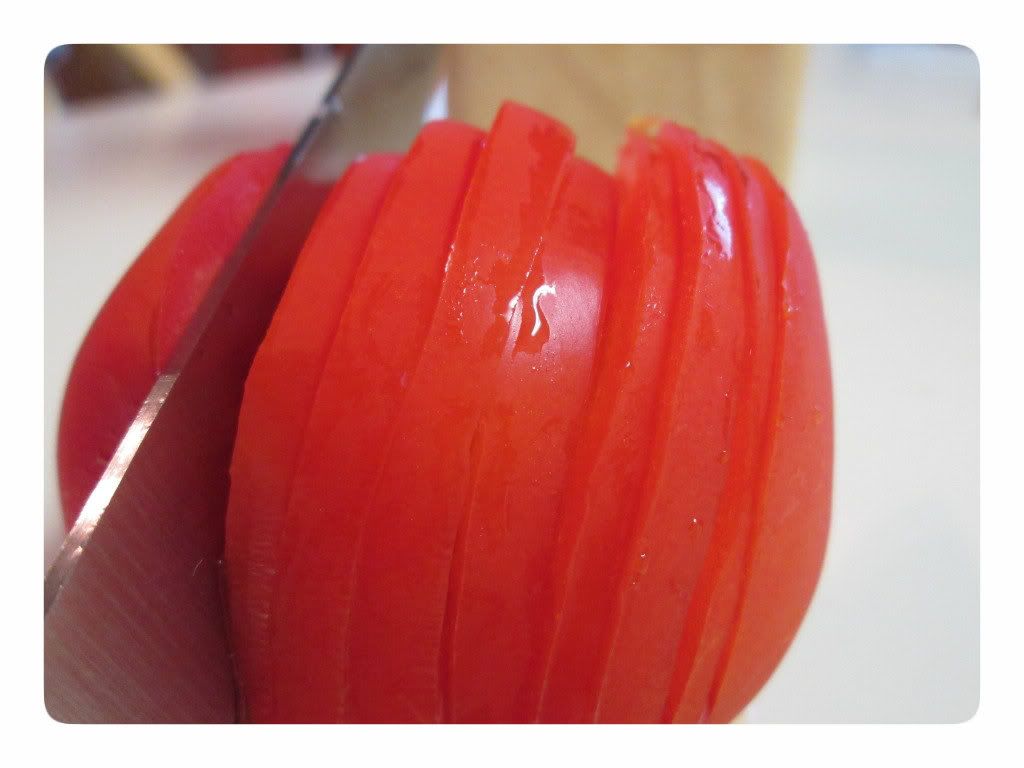 When I am done using them, I simply clean with soap and water, dry and then store them in the hardwood storage block.
We have been using the Sofuto Knife Set for a few weeks now and I am so impressed!  They are as sharp as the day I took them out of the box.  We have used them daily and have had absolutely no problems with these knives.  With a limited lifetime warranty, I feel confident that we have finally found the right knives for all our cooking needs!
Connect
Ginsu Online
Ginsu Facebook
Ginsu Twitter
Buy It
You can purchase the Ginsu Sofuto Soft Grip Knife Set at Ginsu, Amazon and Home Depot.
Win It
One lucky reader is going to win the Ginsu Soft Grip Knife set in choice of Coral, Wasabi or Lotus!
Enter here!
Open to US only.