We have extended our Back to School Event because there was just too much awesome to fit into a two week span!  Next up, jazz up those boring lockers this year with LockerLookz!

This year is the first year that the twins have lockers.  The lockers at their school are very old and dented with half peeled stickers and less than attractive paint.  It's time to spice 'em up, girl style, with LockerLooks locker accessories!
LockerLookz was created by two mom's, who frustrated with the lack of locker products, decided to make their own line of locker wallpaper, accessory bins, flowers, rug, chandeliers, mirrors and dry-erase boards and create the locker of your dreams. Plus, this year they added even more accessories: clocks, bow and key magnets, and curtains and toppers!
And we are we ever happy they did!  Just look at how dull Reagan's locker is before LockerLookz…
(Please excuse picture quality. It was soooo dark in the hallway.)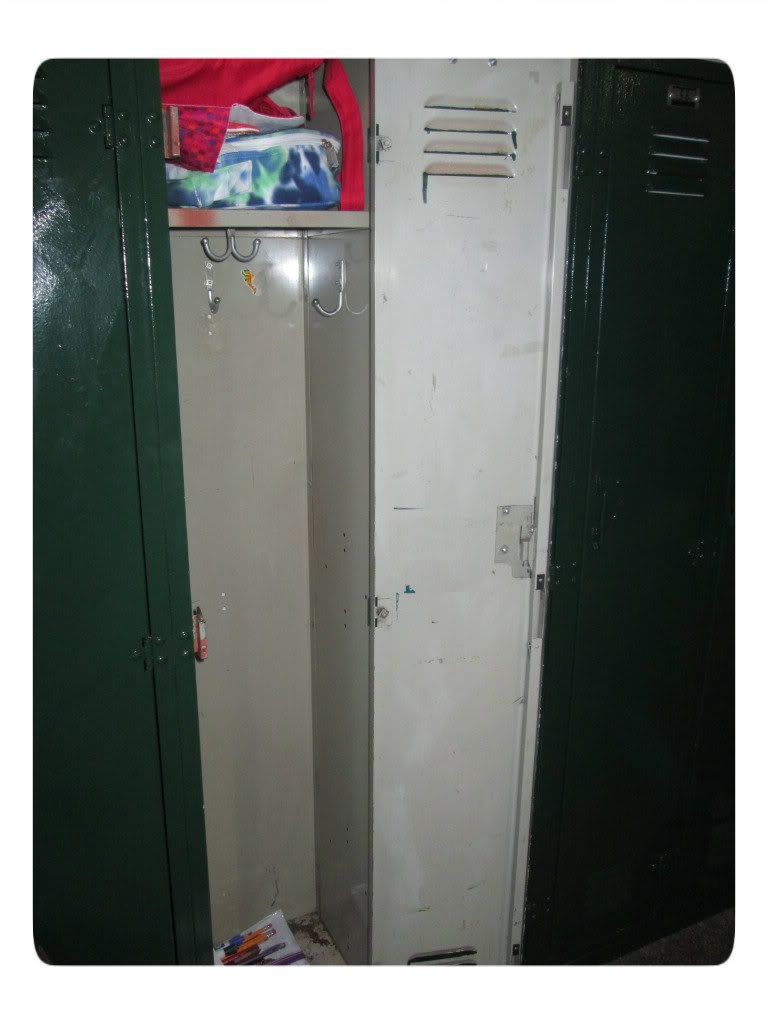 Terrifying, isn't it?
For her locker makeover, Reagen choose the Purple Zebra Locker Wallpaper, Black Locker Chandelier, Purple Locker Accessory Bins and the White with Purple Scroll Locker Dry-Erase Board.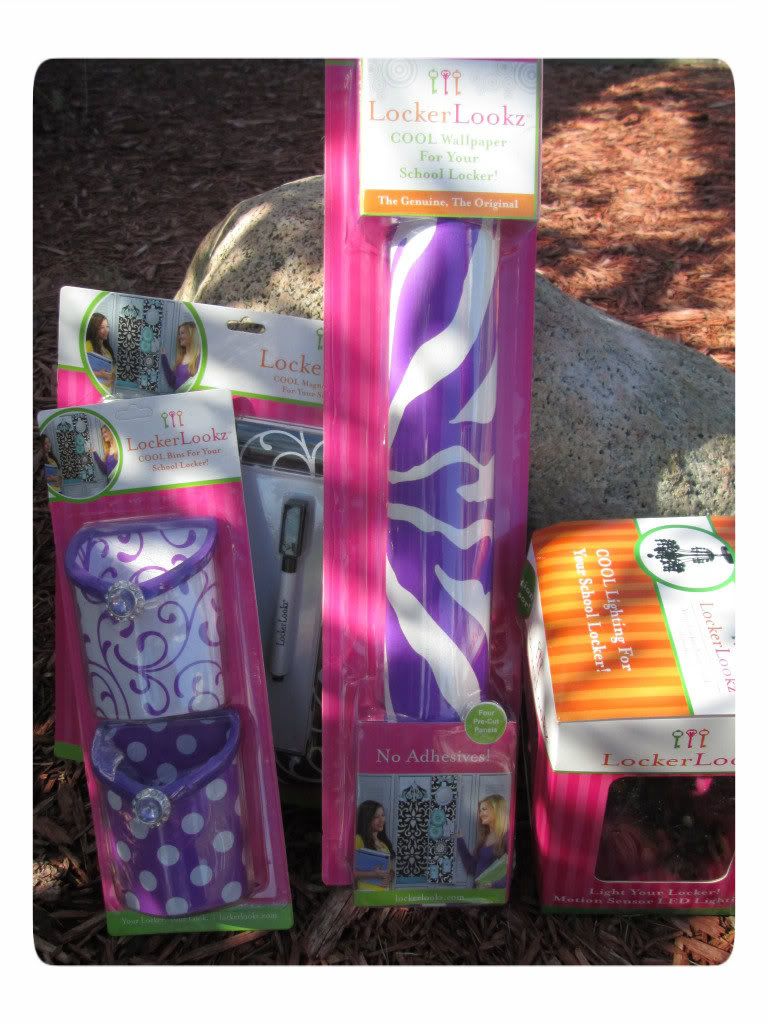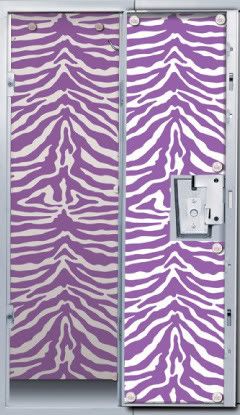 The locker wallpaper fits most standard size school lockers. Four sheets of extremely durable panels are included so you can easily do all four areas of the locker.  The backs of the wallpaper are lined for easy trimming.  So how does it stay on the locker?  That's the beautiful thing!  The set comes with 20 super strong magnets to hold up the wallpaper, that way, you don't do any damage to the locker.  There are pre-cut sections of the paper to accommodate the locker handle and hooks.
The Purple Locker Accessory Bins come with two bins per package and are held to the locker by strong magnets.  They are perfect for pens, hair ties or any other thing you child might need easily accessible.  They do not damage the locker surface and are easily installed and removed.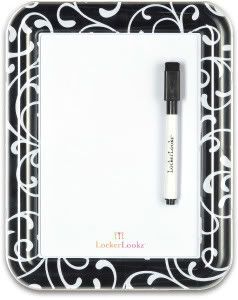 No locker is complete without a dry erase board! The White with Purple Scroll Locker Dry-Erase Board that Reagan choose is a perfect way to communicate with her locker partner or remind her of important events.  Like all the LockerLookz products, the dry erase board is easy to install and remove with magnets and does not damage the locker.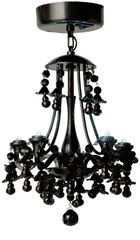 And oh yes! They have Chandeliers that really work!  (if you remember to bring batteries, which we didn't)  Light up your lockers with these motion sensor Chandeliers.  HOW COOL IS THAT????  The are 5 inches across and have a super strong, and I do mean super strong, magnet that holds it to the top of the locker.  This chandeliers was truly the icing on the cake.
We set to work and as we were decorating Reagan's locker, we were surrounded by pre-teen girls on every side.  They went insane over the decorations!  I spent the majority of the time writing down the LockerLookz website while Reagan decorated her locker behind me.
Here is her after picture, and again, sorry about the poor quality of pictures. It was so dark in the hallway and these really don't do the product justice!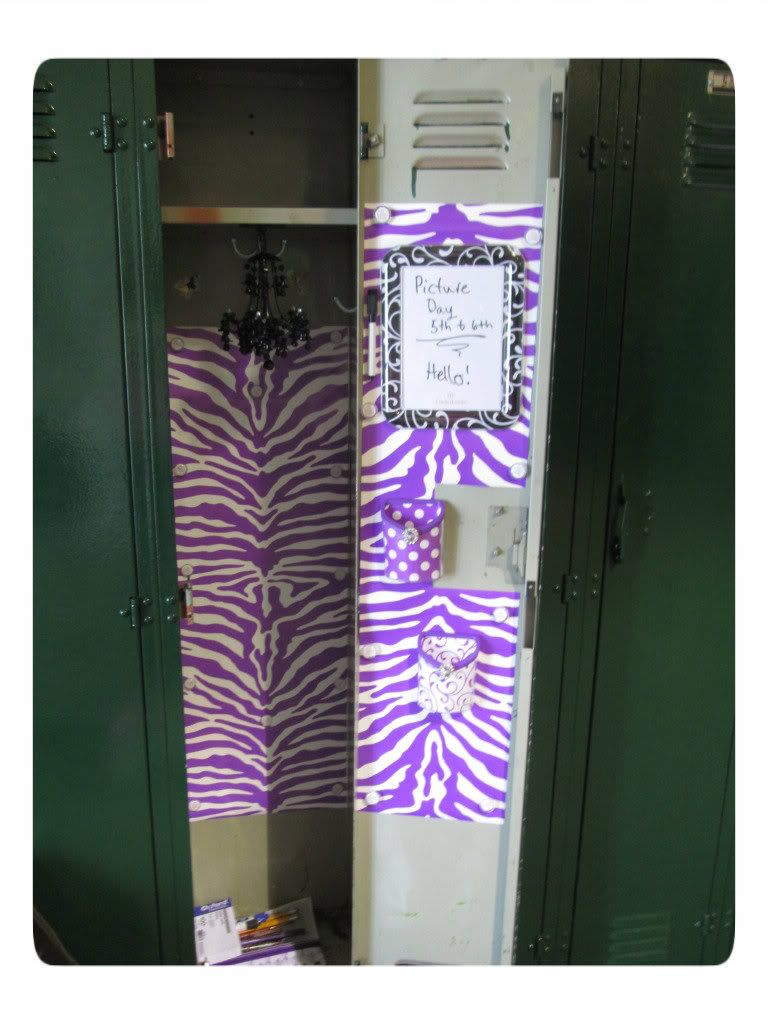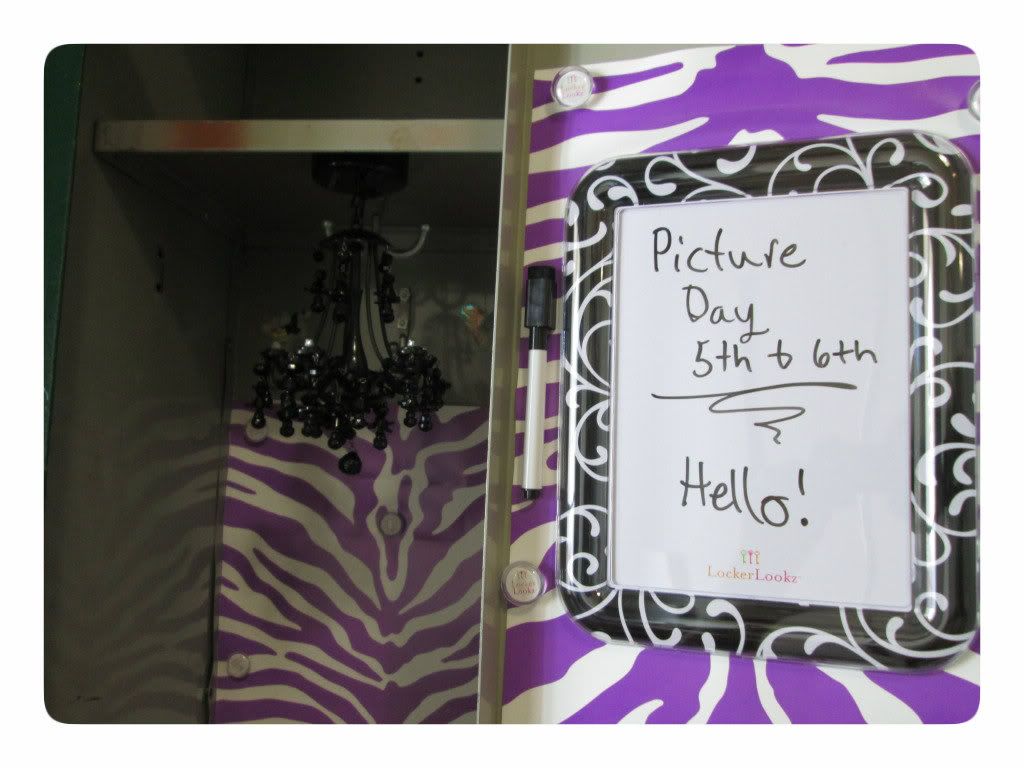 Even though Reagan's locker is a very awkward size, long and skinny, we were able to work it well.  Rather than cute the two remaining pieces to fit the sides, she took them and made them into book covers so her books matched her locker too.  So clever, my girl.
Reagan was very proud to have the coolest locker in school!  These are definitely a hit among the middle school crowd!
Not sure what to get for your tween's locker?  At LockerLookz , she can design a locker online to see how it will look before you buy it!
Connect
LockerLookz Online
LockerLookz Facebook
Buy It
LockerLookz products are available on their website from $6.99 to $24.99 or you can click here to find a retailer near you!
Win It
One lucky Kate n' Kaboodle reader is going to win one wallpaper and 2 accessories of their choice.
Make sure you check out all the giveaways in our Back to School Event including a Nook Color!
a Rafflecopter giveaway

*I received the above mentioned product free of charge to facilitate my review, however all opinions are my own.