The new school season is upon us and with it, pencils, paper and books.  Reagan's school has already begun the process of transferring the learning materials and books onto eReaders and Tablets.  In addition, her reading list this year is long with classics like To Kill a Mockingbird. It won't be long before eReaders are the norm in education.
BuyDig.com is your one stop shop for all things digital including cameras, televisions and computers.  I have teamed up with BuyDig.com to share with you the very beautiful Nook Color eReader.
The Barnes & Noble 8GB Nook Color features the 7 inch VividView Touchscreen that displays 16 million colors ultra-bright. This touchscreen is specially designed for remarkable clarity, minimal glare and is ultra responsive.  The Nook Color is fully customizable so you can make the text bigger, choose your favorite font or read in portrait or landscape.
Books, Magazines, Newspapers, Textbooks, Comics…if you want to read it, the Nook Color can deliver in seconds with it's built-in WiFi capabilities!  With over 2.5 million titles available, there is something for everyone.  There is an endless list of free books and you can even save up to 90% on textbooks!
Concerned about storage? Worry no more! With 8GB (up to 5,000 books) of built-in memory and expandable storage up to 32GB with microSD memory card, there is plenty of room!
Whether you want to watch movies with Netflix, read your favorite book, listen to music, check your Facebook, search the web or enjoy a wide variety of apps, the Nook Color is for you!
(Please excuse the picture quality.  It's difficult to capture the true beauty and clarity of each page because I kept capturing the refresh cycles with the camera.)
When I first turned on the Nook Color, I was introduced to my new eReader with a video and walked through the registration process.  This registered and connected my Nook to the Barnes & Noble store, so later, I could purchase and download books and apps instantly.  It only took a couple minutes and then I was ready to get started.
I can turn on my Nook Color in one of two ways, the power button on the side or the "nook" button on the bottom front.  The Nook button also serves as a back button when using apps and always takes you to the home page when reading.  After my Nook wakes up, I use the slider to unlock it and I am on my home page.  The home page displays my wallpaper and any books or apps I am currently using.  I can pick and choose what is displayed here.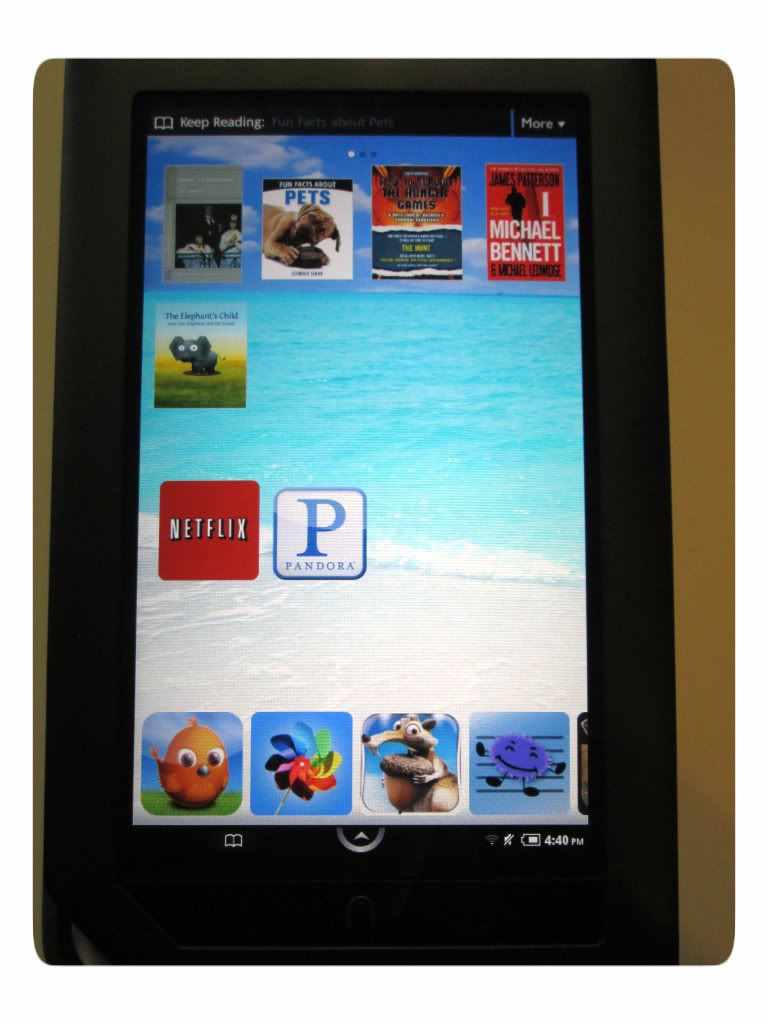 There is a a bar across the top and the bottom of the screen.  The bar across the top, when clicked will open the book I am reading.  It also has a drop down menu to select another recently read book without going to my library.
The bottom bar shows a few items.  The time, battery status, volume and WiFi are displayed on the right side and a book icon to resume reading is on the left. In the middles is an icon that when pressed, opens a menu has several tabs I can visit.
These tabs will allow me to open the library, visit Barnes & Noble Store, search my Nook, view my downloaded apps, surf the web or adjust my Nook Color settings.
Downloading books or apps is easy as pie.  I simply click on the Barnes & Noble store and I can search or browse for whatever interests me. I was very pleasantly surprised to find a vast selection of free books and apps available. Once I have made my selection, I click the buy button, confirm and it downloads instantly.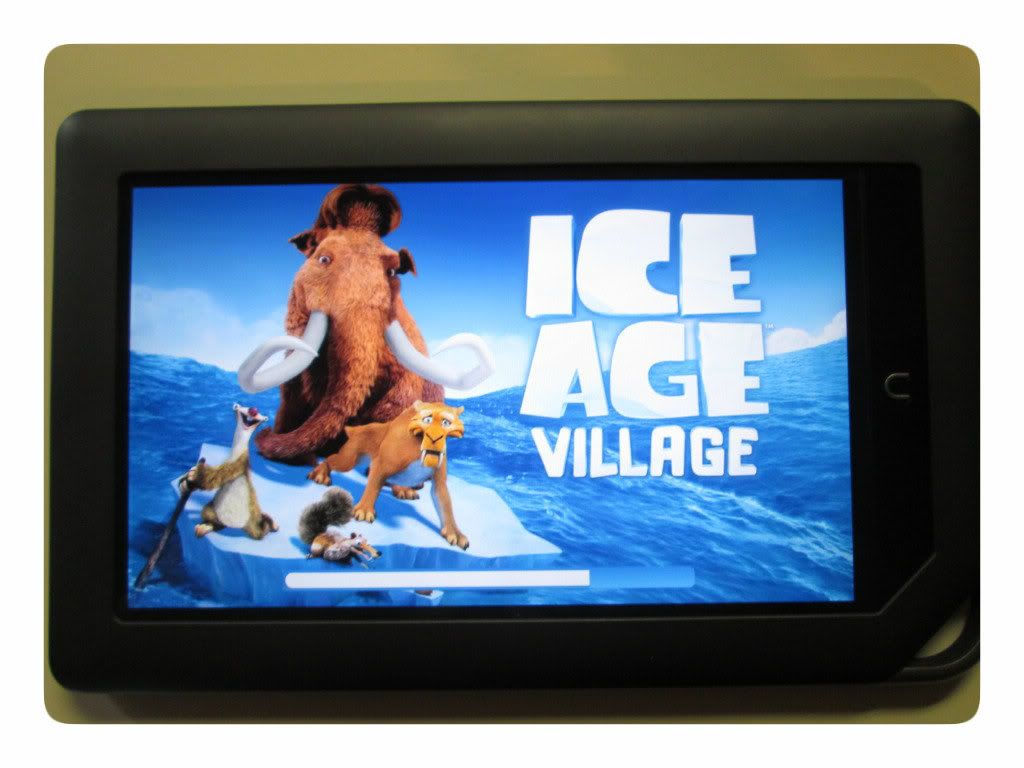 I was interested to see how it felt to read a book on an eReader rather than the traditional print one.  I am used to curling up to a good book.  Would the Nook Color feel like I am escaping on far away adventures, or will it feel like I am checking my mail?  I am happy to report that after the first page or two, I completely acclimated to this new method of reading and am already on my third book.  All I need to do to tap pages is swipe the page or tap the side I want to turn.
What do I love about the Nook Color?  Everything!  It's fast and fun and the entire family is enjoying the Nook Color!  We have downloaded Reagan's reading library and several educational app's for all the kids.  Now, that I have her textbook list, I am going to see about renting them for her as well.  I have downloaded a bunch of fun stuff for us and haven't even made a dent on the storage yet.  I can not begin to say what a wonderful addition to the family the Nook Color has been!
What would I change on the Nook Color?  I can't think of anything.  There are a couple things that can be irritating but then again, there is with any electronic device.  I have never used an eReader so I don't have any experience to compare it with similar products.  I did notice if I try to download too many items it once in the background, the Nook Color will get grumpy and freeze up if I try to close out of something else.  The Wifi range doesn't appear to be as wide as I am used to with our other electronics. I can not connect to hotspots nearby that I usually can but I can, ironically, connect to the Barnes & Noble store in the next state.  And finally, in sunny spots, there is a glare.  It is almost a mirror effect but I don't notice while I am reading unless I specifically look for it.  So I can read and check my make up, depending on my focus.  I have seen commercials for eReaders about glare reduction, so I assume its an issue across all devices.
Overall, we give this a huge two thumbs up and recommend the Nook Color for anyone looking to buy an eReader!
I want to give BuyDig a huge Thank You for sponsoring this review and giveaway! 
Check them out!  Their prices are very competitive and many items include free shipping!

Connect with BuyDig
Online, Facebook, Twitter, Pinterest, Blog, G+
Buy It
BuyDig currently has the 8GB Nook Color available on their website for $149!
All Barnes & Noble products sold at BuyDig can be found here!
Win It
One winner will receive a 8GB Nook Color and a $25 Barnes & Noble Gift Card!
Enter here!
Make sure you check out all the giveaways in our Back to School Event!
 Disclaimer: I received the above mentioned product free of charge to facilitate my review, however all opinions are my own.