We have been huge Veggie Tales fans since the twins were very little.  Our first Veggie Tales tape was the Ultimate Silly Song Countdown. I don't remember where it came from, and we had no idea the stories that went with the songs, but we fell in love with the music!  Eventually, we started collecting the tapes (and then DVD's) and they have been the biggest hit in our household.
Veggie Tales are faith-based films that help children learn bible stories and life lessons.  Their newest release, "The Penniless Princess" is available now!
Veggie Tales made an adaption of the classic story A Little Princess by Frances Hodgson Burnett and gave it a Veggie twist!  It teaches an important lesson about knowing your own true worth.
Sweet Sara Crewe has everything a little girl could want – a loving family, lots of friends and a closet full of frilly dresses!  But when life takes a turn and Sara goes from riches to rags, will she realize that her true worth lies not in what she has, but what's in her heart?  Find out in this inspiring new story from VeggieTales, based on the beloved classic novel "A Little Princess," that reminds kids who they are in God's eyes.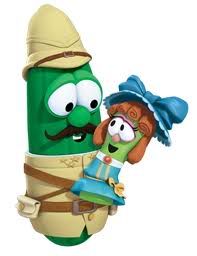 I am not sure who was more excited about this new DVD, the little kids or the big ones.  Veggie Tales has always been a favorite in our household and as soon as the kids hear the theme music, they come running.  Such was the case when I put in The Penniless Princess for Kinsley to watch.  After the theme song was sung at full throttle, they all settled into the bean bags for the newest Veggie Tales DVD.
"It doesn't matter what you have…it matters what's in your heart!"
The message in The Penniless Princess is probably one of my favorites so far.  It is so important to me, as mother to five girls, to make sure they know their true worth.  It try to teach them that material items will not make you a better, happier person, it's what's inside you!
Whatever is true, pure and lovely…practice these things." – Phillippians 4:8
I asked the twins what they thought of the Penniless Princess and although they thought it was sad (the daddy dies), the understood completely the true message.
The Penniless Princess has a variety of fun bonus features, including a discussion guide, and a new Silly Song!  You can visit the Veggie Tales website with your child to find many activities, including games, videos, stories and more!
Connect
Veggie Tales Online
Veggie Tales Facebook
Veggie Tales Twitter
Buy It
You can purchase The Penniless Princess for $14.99 on the Veggie Tales website or at a local retailer near you!
You can download a $3 off in store coupon here!

* I received the above mentioned product free of charge to facilitate my review, however all opinions are my own.