We are kicking off our Back to School Event with one of my favorite things to spice up a lunch box, Funbites!
You can see my past review here!
FunBites is a neat little tool that turns ordinary food fun by cutting them into bite size shapes. FunBites have so many uses and come in two varieties, Cube It! and Luv It!.
You can use them on sandwiches, pancakes, even to cut up meats and cheeses for parties!  We love using our Luv It! in the kids bento boxes and Kinsley loves having her food cut into heart shapes!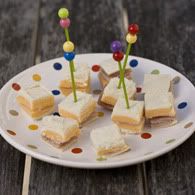 FunBites are super simple to use.
Step 1: Place your Funbites cutter on top of food.  Remove popper top and set to the side.
Step 2: Grab cutter handles on both sides, press down firmly and rock 5-6 times to cut through the food.
Step 3: Lift the cutter up, insert popper top and pop out the bite-sized pieces!
FunBites are perfect for all occasions! Whether you have a picky eater and need a fun way to get them to eat or have a houseful of hungry guests!
Funbites are made in the USA, top shelf dishwasher safe and BPA Free!
Connect
FunBites Online
FunBites Facebook
FunBites Twitter
Buy It
You can purchase both the Luv It! like we used or the Cube It! on the FunBites website for $12.99.  Don't want to pay shipping? Like them on Facebook to score a "free shipping" coupon for your FunBites purchase!
Win It
One lucky Kate n' Kaboodle reader is going to win FunBites in their choice of Luv It or Cube It!
Make sure you check out all the giveaways in our Back to School Event!
Stay tuned for the Grand Finale, a Nook Color!