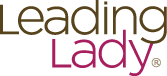 One of my least favorite things in the world is shopping for a new bra.  I have a larger cup and it's frustrating shopping for a bra that will keep my girls in line and be comfortable.  Forget about finding a cute bra on top of all that!
When my nursing bra broke one day, I put on a sports bra and never looked back.  Sure, it looked like I had a uni-boob but I had yet to muster the courage to brave the mall in search of the over-the-shoulder boulder holder.  For two years, I wore sports bra's, knowing I needed to upgrade to something with more support.  Then one day, Leading Lady emailed me and it was the opportunity I needed to change my bra-less ways.
About Leading Lady:
Leading Lady is a premiere intimate apparel company dedicated to creating comfortably functional, remarkably affordable, stylish and easy-to-wear bras, camis and sleepwear. A family owned and operated business, Leading Lady has been expertly tailoring nursing and full figure bras for top brands and retailers across North America for more than 70 years. For the first time, Leading Lady's comprehensive line of nursing and full figure intimates – including sexy stretch lace wire-free and underwire bras, supportive and seamless sport and yoga bras, and cozy sleep and leisure bras – can be purchased directly on LeadingLady.com.
Leading Lady is proud to celebrate "Leading Ladies" everywhere through its products, programs and philanthropic activities. Leading Lady is dedicated to arming new moms with the support – physically, intellectually and emotionally – they need to nurture their babies through breastfeeding and committed to supporting a variety of organizations and issues relevant to women across the country.
Order a bra online?  Are you crazy?  I have a hard enough time in the store with them right in front of me.  I wasn't even sure what size I wore anymore!
Leading Lady hasn't been in the intimate apparel business for 70 years without knowing a thing or two.  They have this this Perfect Fit Calculator on their site that shows you how to measure to get the correct band and cup size.  You simply take your measurements, plug the numbers into the calculator and it fill tell you your correct bra size.  Just like that, I had a number.
Still hesitant about shopping online for a bra, I made my selection.
Pretty, isn't it?  Leading Lady's Scalloped Lace Underwire Full Figure Bra has unique, cut-away, lightly padded, molded cups.  Lightly padded?  Yes, I was concerned.  I need less, not more!  I love the lace overlay and scalloped lace neckline.  It didn't look boring.
When my bra came, I left it in the package for two days. I didn't want to face rejection!  (I told you I am not a fan of bra shopping)  Finally, I couldn't put it off any longer and I opened the package!  It was so gorgeous!  All my adult life, I have had Plain Jane bra's because that's all I could find at the store in my size!  Getting excited, I slipped it on and looked into the mirror.  It actually fit!  And it fit me well!
The padded cups gave me a smooth, uniform look and the lightly padded straps were comfortable and didn't slip of my shoulders.  I worried the lace would show through and make me look crinkly but no, you couldn't tell it was even there.  The quality is excellent and the support was perfect!
And I did it all online!  Can you believe that?  I tossed those sports bra's in the trash and now can go out with more confidence!  I am happy with my Leading Lady Bra!
Want to try your luck?  Leading Lady is offering one reader a product of choice!  Enter below!
Connect
Leading Lady Online
Leading Lady Facebook
Leading Lady Twitter
Leading Lady G+
Buy It
The Scalloped Lace Underwire Full Figure Bra can be purchased on the Leading Lady site for $39.00.
Win It
One lucky Kate n' Kaboodle reader is going to win one free product of choice!
a Rafflecopter giveaway

Giveaway Terms and Conditions:
US Residents Only. Giveaway is for one free product with free shipping on total order. (Free shipping does not apply to shipments in Hawaii or Alaska.)  May not be combined with any other coupon code offers.  Any site discounts will come off your order automatically.  One time use only coupon. Expires after 3 months.  Free subscription to website is required for all giveaway orders.
*I received the above mentioned product free of charge to facilitate my review, however all opinions are my own.