I am so excited to share with you, Vizardz's personalized night lights, light boxes and ornaments that are made with your very own photos!  Using 2.5D technology, Vizardz can transform your photos into 3D!
About Vizardz and 2.5D Technology:

Vizardz is breaking new ground in the field of photography by applying the most advanced 3D technology to what has traditionally been a two-dimensional medium. The result is an innovative, mulch-dimensional image made tangible through 3D personal sculptures and 2.5D pictures.

2.5D pictures combine a three-dimensional topography with your two-dimensional digital photographs and images. This combination adds depth, texture, and contrast to breathe life into your ordinary photos. When light is applied to a Vizardz 2.5D picture, the stunning beauty of our technique is demonstrated, rendering the image in 3D.

It's so easy to create your Vizardz personalized Light Box!  You simply select the style and size you would like for your 2.5D picture to be displayed in, upload the photo you would like transformed and submit your order.  When your new light box arrives, you just install the bulb, slip the 2.5D picture into the box and turn it on!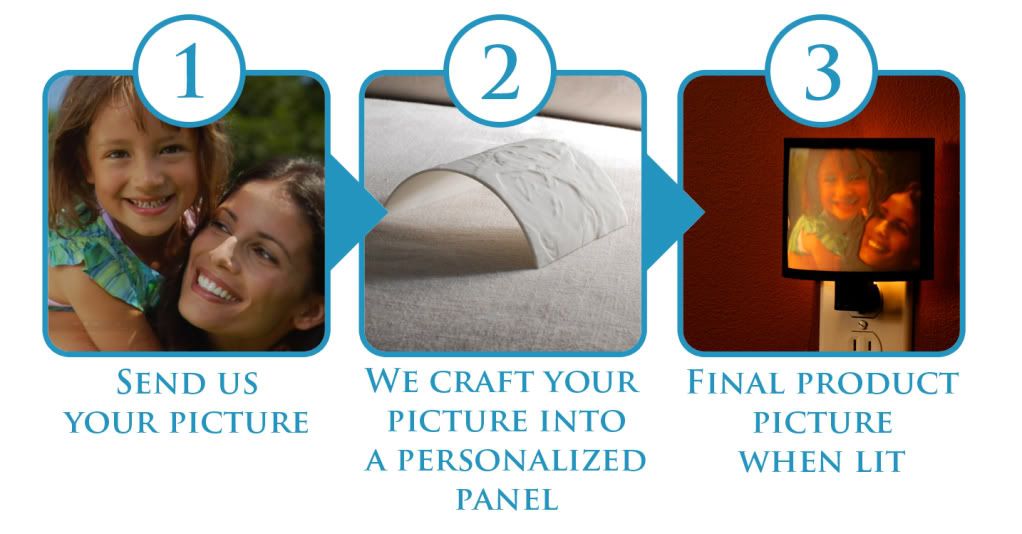 I honestly had no idea how fascinating this light box would be!  The 2.5D picture inserts look like they are carved out of a sandstone.  When you first look at the insert, it almost appears to be a topographical map of sorts, with hills and valleys.  Once you turn on your light box, the magic happens and your photo comes alive in 3D!
I sent in one of my favorite photos.  This photo is my grandmother holding Kinsley's hand when she was just a couple weeks old.  It is special because my grandmother is no longer with us and I love the "old and new" of it!
I am very happy with the results!  I could not stop looking at the photo box! The box itself is beautiful and the 2.5D photo just makes it shine that much more.  If I want, I can even have more photos made and switch them out whenever I like.

They pictures really do not do it justice.  The photo is so life like and beautiful when transformed into 3D!
I took the photo box over to my Mom's house and presented it to her as a present.  She loved it so much and my engineer Dad was just as fascinated as I was with the process.  It truly is unique!
I think this would be a fabulous present for out of town Grandparents!  How cool would it be to send every holiday a different picture of their grandchildren that they can show off to their guests!
Thank you, Vizardz!
Connect
Vizardz Online
Vizardz Facebook
Vizardz Twitter
Vizardz Youtube
Buy It
The Vizardz Night Lights start at $38.95 and the Light Boxes start at $68.95.  You can also purchase individual inserts, as well as personalized ornaments at Vizardz's website.
Win It
One lucky Kate n' Kaboodle reader is going to win a Vizardz Light Box of their very own!
a Rafflecopter giveaway

I received one or more of the products mentioned above for free using Mom Blog Society Regardless, I only recommend products or services I use personally and believe will be good for my readers.