When I was pregnant with Kinsley and trying to come up with a name for her,  I posted on Facebook asking for suggestions.  I said I didn't want to name her something you could find on a pencil at the drugstore.  A friend of mine commented, "Why? Kids like their names on pencils."  And you know what?  They really do!
While my three youngest children do not have pencil names, I don't have to worry that I have banished them into the land of boring school supplies.  Frecklebox has a great selection of personalized gifts that your kids will love!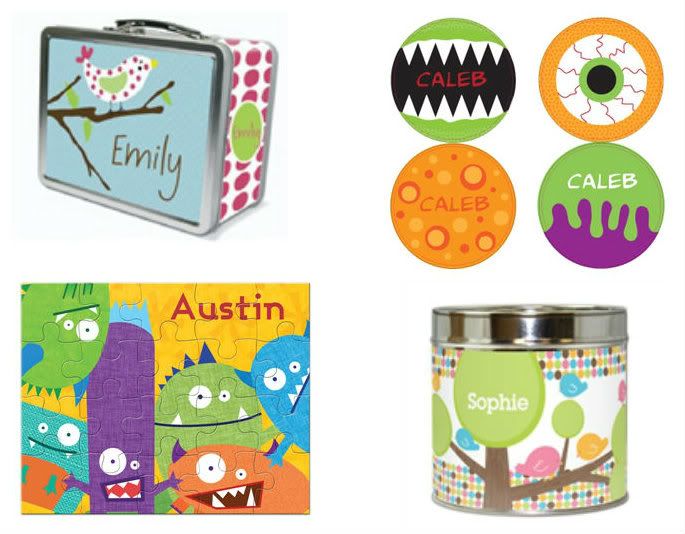 At Frecklebox, you will find personalized gifts for kids like lunch boxes, puzzles, binders, sticker and much more!  The lunch boxes even have chalk boards inside so you can write notes to the kids!
We recently ordered a binder, folder and some bookmark's for the twins.  They both are in love with animal prints so they were excited about the various animal print products offered at Frecklebox.
Binders are a thorn in my side.  The normal binders you find at office stores are the ugly ducking of the school supply family.  My kids beg me to pay extra for the ones with the clear sleeve in front so they can decorate and give them some personality.  They are usually flimsy and consist of thin plastic enclosing thin cardboard.  The girls go through them so quickly because there is hardly anything binding the binder!  They split at the seams so I end up buying them over and over.  As you can see from the picture, the personalized binders from Frecklebox have good, solid seams.  Cute and durable!
The pocket folder and bookmarks were a big hit, too.  The bookmarks have different prints on each side so it's really like have two bookmarks in one!
Frecklebox even has free personalized coloring pages!  This is Kinsley's favorite!  I just add her name to the page and print it out.  The coloring pages include everyday and holiday themes.
Oddly enough, Frecklebox doesn't have pencils!  I think the girls are going to be alright since their binders and folders have made them quite cool in school.  Both girls got raves from all their friends!  Thank you, Frecklebox!
Connect
Frecklebox Online
Frecklebox Facebook
Frecklebox Twitter
Frecklebox Pinterest
Frecklebox Blog
Frecklebox YouTube
Buy It
You can purchase the Binder for $26.95 at Frecklebox.  The bookmarks and folders are also available for $4.95 each.
Win It
One lucky Kate n' Kaboodle reader is going to win a $30 Gift Certificate to Frecklebox!
*I received the above mentioned products free of charge to facilitate my review, however all opinions are my own.