In our household, we try to recycle as much of our waste as possible.  We have two kitchen sized trash cans in the closet, one for our trash and one for recyclables.  The problem is the location.  Because there is a shelf immediately over the two cans, things often get caught and when I go to take them outside I am left picking up half of recyclables from behind the can.  I have begged my husband to build something better but honestly, even if he did, there would be no place to store another recycle bin.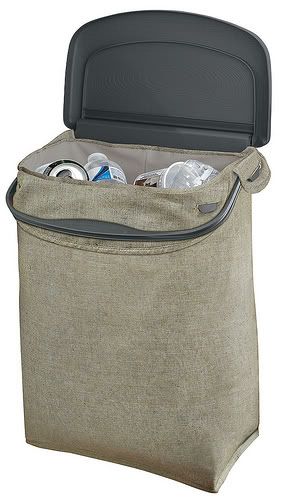 That is, until Rubbermaid solved my recycling woes!  Rubbermaid has so ingeniously came up with the perfect recycle bin for those of us with limited space or looking for a more convenient way to recycle, the Rubbermaid Hidden Recycler!  How clever is this?

The Rubbermaid Hidden Recycler attaches to the inside of a cabinet door so it's out of the way but easily accessible.  It can be attached to the cabinet door by one of two ways:  you can screw it to the door itself or if you are like me and rent, you can simply hang it from the door with the hooks provided.

I am using my Hidden Recycler to collect my pop cans.  I love how convenient it is!  I just open the cabinet door and toss them in! It's as easy as that.  It can hold roughly 36 uncrushed cans.  When I am ready to take them to the outside bin,  I just lift the bag out by the handle and take out my recyclables.
The Rubbermaid Hidden Recycler is made of recycled material as well as the packaging it comes in.  Even better?  You can recycle your Rubbermaid Hidden Recycler when you are done using it.  Which, if you ask me, won't be for quite some time.  The bag is cute, durable, leak proof and I can toss it in the washing machine when it gets dirty.  I will use this for years to come!  Thanks, Rubbermaid!
Connect
Rubbermaid Online
Rubbermaid Facebook
Rubbermaid Twitter
Buy It
You can purchase the Rubbermaid Hidden Recycler for $17.59 at the Rubbermaid website.
Win It
One lucky Kate n' Kaboodle reader is going to win a Rubbermaid Hidden Recycler of their very own!
Open to US and Canada
*I received the above mentioned product free of charge to facilitate my review, however, all opinions are my own.