When my husband brought home my dog, Charlie, I feel instantly in love!  He was this little tiny black fluff ball.  So adorable.  What wasn't adorable about my schnoodle was evident the first time he came in from outside.
He stunk!  The air around him stunk.  When I pet him, I stunk!
We also have a chiweenie and I am not sure if it is the difference in fur length but geezeeeeee, the smell coming from Charlie was terrible!  I immediately took him for a bath thinking surely the previous owners were neglectful.  I know you are shaking your head right now, aren't you?  Because yes, he still stunk.
I have lived with this odor the past year.  I was so happy when NOse Offense contacted me and asked if I wanted to try their Air and Fabric Odor Eliminator for Pets.  My mom even said "If it works, I will buy it by the gallons". (Ironically Mom, they sell it by the gallon!)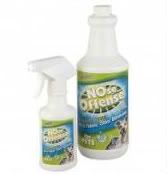 I like this product for three reasons.
It really works!
Yes, it's true.  NOse Offense is a beautiful product.  I have put it to the ultimate test in eliminating pet odor .  I have wiped Charlie down with it, sprayed the air and used it every morning in the kennel and on their blankets.   There is no fragrance to it at all so I am not just masking Charlie's stink but eliminated the pet odor completely.  There is literally no smell at all!  Not from the product.  Not from the dog.  I would say that's a WIN! I even use it in Gizmo's cat box.  I would have loved to have had a bottle when I owned birds.  That's another very distinct pet odor that no matter how clean the cage, you could still smell the birds.
It's safe not only for my pets but my family.
NOse Offense is safe, non-toxic, organic, biodegradable and manufactured to be 100% free of enzymes, alcohol, phenol & phenol derivatives, phosphates and phthalates.  I appreciate this, not only for the dogs, but for Kinsley who loves on them constantly.
The company is eco-friendly. 
The product and packaging is biodegradable.  The spray bottle is made from recycled plastic.  The flutes (wavy inner section of carton) are constructed using 100% recycled material and the entire carton is recyclable.  The plastic bags, paper filler and labels used in shipping are biodegradable and made from 100% recycled paper.  This make s me feel good buying a product that cares about the environment.
I know you are curious…
How does it work?  (from the NOse Offense Website)
Our fragrance-free spray works by using the proven scientific principle of odor conjugation.  The molecules in our formula combine with the molecules in all pet odors to quickly neutralize the smells, returning your environment to a completely smell-free condition! Our breakthrough formula and technology is so advanced that we have a patent pending.

Unlike most air fresheners, NOse Offense For PETS is NOT a masking agent; it doesn't try to hide your pet's odors by disguising them or replacing them with another scent. It neutralizes and eliminates all smells found in the air and also on all water safe fabrics including curtains, carpets, clothing and blankets. NOse Offense can also be used in litter boxes, cages, carriers, pet living and sleeping areas, as well as on hard surfaces, such as wood or plastic.  Spray once or twice in the air or identify the source to spray directly onto/into the affected area. We have even designed our product to allow for wiping down your pet's coat with a NOse Offense sprayed cloth!
NOse Offense is pure genius!  I am no longer embarrassed when people enter my home because of the pet odor my dogs create!  I think it is a must-have for all pet owners.
Connect
NOse Offense Online
NOse Offense Facebook
NOse Offense Twitter
NOse Offense YouTube
Buy It
The NOse Offense lines starts at $4.99 for the 2 ounce travel size.  You can purchase NOse Offense in 8oz, 32oz, and gallon sizes.
Use coupon code KABOODLE15 to get 15% of an entire purchase until Friday, January 6th!