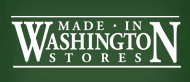 I have lived most of my life in Washington state.  One of my favorite places in Washington is Seattle.  It is a beautiful city with so many memories, both of my youth and with my family.  I miss is so much and can't wait to go back!

That's one of the best things about Made in Washington stores. I can get a little taste of what I am missing from the comfort of my home in Idaho.  At Made in Washington, you can find a selection of products from different vendors across the state.  You can find everything from Salmon to Souvenirs!  Chocolates, Art, Books, you can even get jewelry made from the volcanic rock of Mount St Helen's!  I have jars of the ash in my garage from that eruption.  It was one of those events you don't soon forget.
In fact, I am not the only one that has some ash from the eruption laying around.  Glass Eye Studio, located in Seattle, creates beautiful hand blown glass ornaments and includes some ash from the eruption of Mount St. Helens in 1980.
Limited Edition Hand-blown Glass Ornaments and Designer Ornaments:  Glass Eye Studio creates these unique ornaments in their 'hot shop' in Seattle. Brilliant colors meld to create this breathtaking collection of treasures including the Red Spin Heart, Olympic Raindrop, and 2011's limited-edition Holiday Globe. Every piece has its own unique characteristics, and each piece is signed and dated and comes with a free velvet keepsake box.
Made in Washington sent my family the Hand Blown Purple Raindrop Glass Ornament.  How fitting a raindrop ornament from Seattle?
The ornament came in a beautiful green velvet box and once I opened it, I was immediately reminded of Seattle and all those times I forgot an umbrella.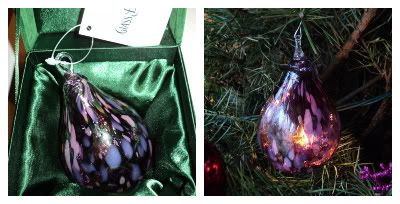 The Hand Blown Purple Raindrop Glass Ornament is made of a thick glass and looks absolutely gorgeous on our Christmas tree.  The lights pick up the different variations of color and make the ornament almost appear to be lighting up itself.  I love that it is hand crafted making it unique.  I think we may make a tradition to pick up a Made in Washington ornament next time we are in Pike Place Market in Seattle.  That way, we can bring a bit of Seattle home with us!
Connect
Made in Washington Online
Made in Washington Facebook
Made in Washington Twitter
Buy It
Limited Edition Hand-blown Glass Ornaments and Designer Ornament sell from $24.99-$34.00 on the Made in Washington website.  You can also find a wide selection of products made from local vendors and artisans.