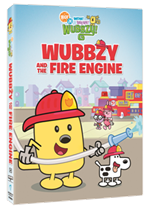 Wubbzy has a new DVD! 
Wubbzy and The Fire Engine DVD from Anchor Bay Enterainment was released Sept. 13th. just in time for National Fire Prevention Week, which starts on October 9. 
Kinsley had never seen Wubbzy before this DVD and if there is one thing she loves, it's fire engines.  We live close to a fire house so we often take walks down to the station and sit in the trucks.  So when I put this DVD in, she was very intrigued.  The video is 70 minutes long and she watched the entire thing!  I was suprised to Ty Pennington has a role on the DVD.  We are huge Extreme Home Makeover fans! 
Now everyday Kinsley is asking for "wuzzy".  It's hard to say no, especially since Wubbzy is not only cute but teaching Kinsley some important skill sets. 
Read more from the press release below…
About Wubbzy and The Fire Engine:
Wubbzy and his best buddies, Widget, Walden and Daizy, suit up for six memorable stories in "Wubbzy And The Fire Engine" ($16.98).   This latest release whisks preschoolers along as Wubbzy has a fire engine adventure with Widget in "Wubbzy And The Fire Engine"; delivers Daizy's doodleberry treats – the Wubbzy way – in "What Would Wubbzy Do?" and helps rebuild a neighbor's house with a little help from a pro in "Ty Ty The Tool Guy," featuring the voice of Ty Pennington, host of the popular TV series "Extreme Home Makeover."
Additional episodes include "Mr. Unlucky," in which Wubbzy realizes he's a pretty lucky guy after all; "Wuzzleburg Express," where Walden uses quick-thinking to save the day from a runaway train; and "Hangin' With Mr. Gummy," which reminds preschoolers that fun comes in many different forms!
About Wubbzy:
"Wow! Wow! Wubbzy!" has been a hit with young viewers and their families since its 2006 TV premiere on Nickelodeon®, and the show currently airs daily on Nick Jr.  Wubbzy is a fun, lovable, curious little guy who just likes to play, play, play with his friends in the eye-popping town of Wuzzleburg.  The top-rated series supports preschool social skills – sharing, listening, compromising, helping and appreciating others, self-awareness and the use of humor as a coping skill.
 Although their world is more fanciful and imaginative than our own, Wubbzy and his friends deal with the same social and developmental issues faced by preschoolers.  They learn how they fit into a group, how to understand their own feelings and those of others, how to get along with one another and the value of friendship and community.
 "Wow! Wow! Wubbzy!" is produced by Bolder Media, Inc. in association with Starz Media's Film Roman Animation Studio.  It is a worldwide hit that is broadcast in 60+ countries.  Susan Miller (co-producer of Ella Enchanted) and Fred Seibert (executive producer of "The FairlyOdd Parents") are the executive producers of the show created by Emmy Award® winner Bob Boyle (producer of "The FairlyOdd Parents"). 
Connect
You can visit Wubbzy online to learn more about the show and products, play some games and even find cool crafts and recipes!
Wubbzy Youtube
Wubbzy Facebook
Wubbzy Twitter 
Buy It
You can purchase right now on Amazon, Wow! Wow! Wubbzy!: Wubbzy & The Fire Engine for $10.99!  You can also find it at your local Walmart.
Win It
One lucky reader will win Wubbzy and The Fire Engine DVD!
click "more" to enter!