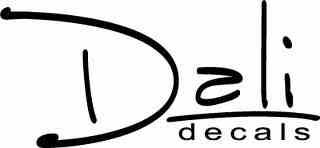 If you are looking for as easy way to spruce up your walls, then Dali Decals is a great place to check out!  Dali features Vinyl Wall Decals,  Custom Printed Canvas, and Custom Printed Wall Decals and Murals.  Everything is completely customizable in the size and colors you need for your space.
The Wall Decals are breeze to put up, removable and can even be used on textured walls.  They can be used outdoors, in the bathroom and even on dance floors!
Dali Decals sent us a decal to review.  I choose the Family Sign to mix in with our wall of family pictures in the dining room.  The decal comes with instructions for small and large decals.  Since this was more of a medium and had a bigger surface space of vinyl, we went with the larger installation.
The larger  wall decals are applied to the wall and basically divided into two working surfaces by a painter's tape (or in our case, whatever tape you can find in the gargage) anchor down the middle.  Once the decal is anchored, we started with one side, peeled and cut away the backing and attached the decal to the wall.  We used the squeegee provided and smoothed it out in a sunburst fashion.  After repeating on the other side and removing the anchor, it was time to remove the front paper.  Slowly, holding it flat against itself, we peeled it off to reveal our decal!
I am very happy with how it turned out and we get many compliments on our Dali Decal!  I think it just made the space perfect!
Isn't it great?  And so easy! Thank You Dali Decals for making my wall perfect!
Dali Decals is having their own super mega giveaway right now until the end of the month….
The Dali Decals Back Lot
The Dali Decals Back Lot is Dali Decals' new online community.  It's a place where their customers and fans can get to know more about them, their business and products, have some fun, and earn rewards! To get the word out, they're giving away $5 in gift certificates to everyone who registers, no purchase necessary. We're also giving away $5,000 in gift certificates and a couple iPad2′s to some lucky winners.

Here's how the giveaway will work

One Grand Prize winner will receive a $1,000 Dali Decals shopping spree
Two 2nd place winners will each win a $500 Dali Decals shopping spree
Two 3rd place winners will each win a 16GB iPad2
Four 4th place winners will each win a $250 Dali Decals gift certificate
Ten 5th place winners will each win a $100 Dali Decals gift certificate
Twenty 6th place winners will each win a $50 Dali Decals gift certificate

Participants are eligible to win one of the above prizes by simply creating a Back Lot account and becoming a member no later than August 31st at 11:59 PM EST. Absolutely no purchase necessary! All winners will be drawn randomly and announced Friday, September 2.
How cool is that?
Dali Decals would also like to offer one Kate n' Kaboodle reader a $25 Gift Certificate to spruce up their own space!
Buy It
You can purchase Dali Decals here.
Win It
$25 gift certificate to Dali Decals!
Please note: all readers and/or contest entries are only eligible to win once per 12 months.
Click "more" to enter!